Toru Yamashita is the guitarist and leader of Japanese band ONE OK ROCK. During the band's debut, he was accompanied by another guitarist named Alex Onizawa. His style is influenced by American bands. Yamashita is also a fan of Avril Lavigne. On the first album, he helped Taka sang and did the rhythm.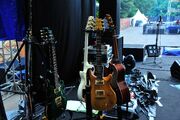 Toru Yamashita use many guitars as his taste changes from time to time. Since the first time Toru debuted in ONE OK ROCK, he prefers using the
Gibson Les Paul
. During Jinsei x Boku = era, he changed most of his guitar to
Paul Reed Smith
, but still uses his two Les Paul's model, the white and black one for different tuning.
Gibson Les PaulEdit
Toru was recognized for his Les Paul since he first debuted in the band. He was said to have loved the guitar, which explains why he has many collections of Les Paul to this very day.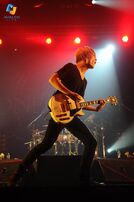 Les Paul Custom Alpine WhiteEdit
First seen in 2009, at Shinjuku LOFT OVERCOME Emotion TOUR. Mainly used in standard tuning. Known for playing songs like; Kanzen Kankaku Dreamer, Re:make, The Beginning, Juvenile, Deeper Deeper, Kaimu, Yes I Am, Nainhi Shinshou, Viva Violent Fellow, and many more.
In 2013, this guitar was spoted to have many markers on it. On the front, there are Fall Out Boy members' signatures. Then in Singapore, it was revealed that on the back of the guitar was Avril Lavigne's signature.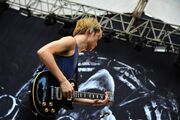 Les Paul Standard BlackEdit
There is a possiblity that this guitar is Toru's first guitar, because he was seen using this guitar ever since the Keep IT Real video came out. Now, this guitar is mainly used for playing songs that has a Drop D tune such as Let's Take It Someday, Mikansei Kyokyouku, Jibun ROCK, The Same As, LOST AND FOUND, Shake it Down, and Nobody's Home.
Paul Reed SmithEdit
For the first time, Toru only used this guitar to play Liar in 2010. During two nights of the band's final concert in Yokohama Arena in 2012, he bought a new one. Before JINSEI x KIMI = TOUR, he bought one more PRS guitar. He uses these guitars as often as he uses his Gibson Les Paul.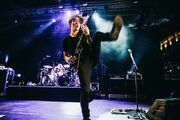 PRS Custom 22Edit
PRS McCarty KorinaEdit
PRS Custom 22 Edit
​The latest collection of his PRS guitars and have different type with the old ones. This one dominates the new album, because of the tune. This guitar is used Half Step Down tuning. Songs which played with this guitar are 69, ONION!, Answer is Near, Clock Strikes, and C.h.a.o.s.m.y.t.h.. This guitar featured in Deeper Deeper music video.
Gibson J-45Edit
When comes to acoustic guitar, Toru chooses Gibson J-45. He uses this guitar for many shows, and bring it wherever he tours. There is some song which required acoustic guitar, like Be the light. During JINSEI x KIMI = TOUR Wherever You Are re-arranged into acoustic ballad song, required this guitar. This guitar featured in the limited version DVD of Jinsei x Boku = album video Studio Jam Session, performed The Beginning and the same as in acoustic version.
During two nights final concerts at Yokohama Arena in 2012 Toru have seen used two Fender guitars.
Fender TelecasterEdit
​Fender Telecaster very popular because of it's sound. Toru used this guitar for Karasu in Budokan,Wherever You Are, Nobody's Home and Kimishidai Ressha in Yokohama arena 2012.
Fender JazzmasterEdit
​Toru used this guitar for Kagerou. Fender Jazzmaster has unique shape and powerful sound.
Harry's Engineering Dragonfly ES Custom 666Edit
This guitar featured in Clock Strikes music video. Beside that, this guitar used during Liar in JINSEI x KIMI = TOUR in 2013.
Toru using Marshall amps with a lot of modification.
Effects & Rack
Edit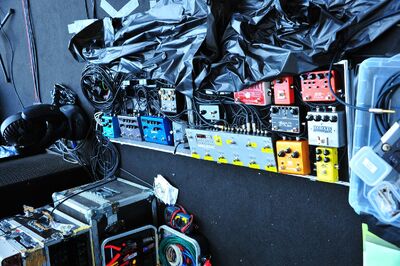 Until today, Toru's effects and rack is still unknown. Maybe you can help us to write it here. From the left bottom row: Strymon Bluesky, Strymon Timeline, Strymon Mobius, source audio programable equalizer, Free The Tone ARC-3 True Bypass Looper, Strymon Ola, Xotic Effects AC Booster, Strymon Flint, Electro-Harmonix POG2 Octave Generator, Providence Effects Heat Blaster, Xotic Effects BB+ Preamp, MI Audio Megalith Delta, MI Audio Megalith Delta High Gain Distortion Pedal, Boorocks Leon MD1 Multi Driver.