Tomoya Kanki is ONE OK ROCK's drummer. Before he joined in this band, he is a student in ESP Musical School. That is why Tomoya is so skillful when playing drum.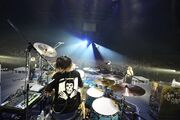 Tomoya is currently using SAKAE Drums. He said that he loved it and the sound is suitable for the band. His first time seen using a SAKAE Drum kit was in the Music Video for "Answer is Near". Since ONE OK ROCK's two-day concert in Yokohama Arena in May 2012, Tomoya used a double-bass drum kit. Wherever he goes, he will always bring his drum kit. But when he did WHO ARE YOU?? WHO ARE WE?? Tour, he borrowed the double bass drum kit from the promotor. All of them are TAMA Drum set, except in Singapore he used DW Drum set.
Before using SAKAE Drums, Tomoya prefers to use TAMA Drum set. 
Tomoya is using a lot of manufactures for his cymbals kit, such as Paiste and Zildjian.
Stick Drums
Edit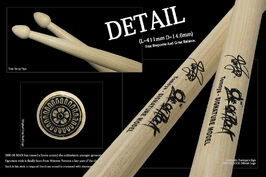 Tomoya has his own signature US Hickory drum sticks, 411 mm in length and 14,5 mm in width. Now his signature drum stick sell out on Wicest Japan's website for ¥ 1,600 (¥ 1,680 if tax included).
Ad blocker interference detected!
Wikia is a free-to-use site that makes money from advertising. We have a modified experience for viewers using ad blockers

Wikia is not accessible if you've made further modifications. Remove the custom ad blocker rule(s) and the page will load as expected.