An interview has been uploaded in punkvideosrock.com youtube account after their performance in Vans Warped Tour 2014: Kick-off Party.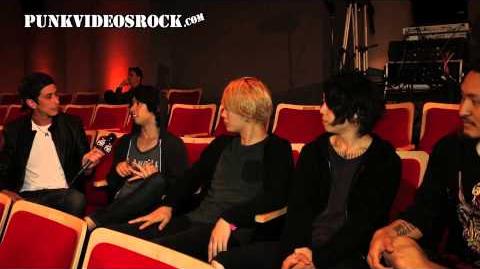 This is a summary by Elsie Chapman.
How is it, working with John Feldmann? Are there any barriers going on in the studio? Like language barriers?
Taka : It is very difficult, because we are Japanese and he is American people. But we have American people friends and they are speak Japanese. There is translation, and we have communication.
What's one thing that you guys have done here in the States that you guys are enjoying?
Taka : Partying.
Partying? Are you guys big on partying?
OOR : Yeah...
Taka : Yeah, a lot. I love it!
External Link
Edit
Ad blocker interference detected!
Wikia is a free-to-use site that makes money from advertising. We have a modified experience for viewers using ad blockers

Wikia is not accessible if you've made further modifications. Remove the custom ad blocker rule(s) and the page will load as expected.