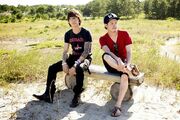 Takeshi Hosomi is japanese songwriter and singer. He affiliated with Ellegarden and the Hiatus, which Ellegarden announced their indefinite hiatus since 2008. After that, Takeshi formed a new band called the Hiatus in 2009. ONE OK ROCK style of music heavily influenced by Ellegarden. Some of their song really identical with ONE OK ROCK, such as
Monster (モンスター)
and
Snake Fighting
.
Now Taka and Takeshi is the best friend. They spotted playing in a gig together once, in a acoustic set. Some of the people said Taka is the next 'Takeshi Hosomi' because they both have perfect pronunciation in English, which lack in most Japanese.
Ad blocker interference detected!
Wikia is a free-to-use site that makes money from advertising. We have a modified experience for viewers using ad blockers

Wikia is not accessible if you've made further modifications. Remove the custom ad blocker rule(s) and the page will load as expected.