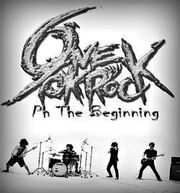 One OK Rock Ph, The Beginning is a fan page officially founded in Philippines. At first they made an account in Facebook, but then they expanded their area into Twitter, Dailymotion, etc. This page recognized as the most active and the most update in ONE OK ROCK fandom. Sometimes they held a competition to their followers. All of their post written in English.
Description
Edit
This is an unofficial fan page of One OK Rock's Filipino fans around the world. We are not connected to any group, organization or institutions. This is merely a fanpage that aims to support our beloved ONE OK ROCK band. :)
Furthermore,anyone, regardless of gender, religion and nationality, residing in the Philippines and just want to flail and express their love for One OK Rock are most welcome.
External Link
Edit
Ad blocker interference detected!
Wikia is a free-to-use site that makes money from advertising. We have a modified experience for viewers using ad blockers

Wikia is not accessible if you've made further modifications. Remove the custom ad blocker rule(s) and the page will load as expected.