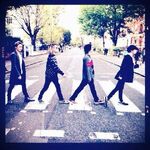 ONE OK ROCK fans UK
is a facebook page also as a community occupied ONE OK ROCK fans in the United Kingdom. They made several projects, like what they did in ONE OK ROCK gig in London in October 2013. This fanpage launched on 4 June 2013, with four active admins: Chris, Angela, Bobby and Sam. They also have a website 
http://www.oneokrockfans.co.uk/
(this website is currently down)
Description
Edit
We try to extend ourselves for you to be updated on what's going on with the band. We have more projects to do!
By the way, WE ARE NOT PAGE PROMOTERS. =) Well, if we share other pages or fan clubs, we voluntarily do it and we have valid reasons to do it.
I won't say this is an "official" fan club because I never had an agreement with ONE OK ROCK or the management. But We are willing and doing our best to create a good fansite.
---
Don't forget to send us suggestions or other feedback. If there's wrong info, don't hesitate to correct us. :D Thank you for dropping by! Have a pleasant day to everyone.
External Link
Edit
Ad blocker interference detected!
Wikia is a free-to-use site that makes money from advertising. We have a modified experience for viewers using ad blockers

Wikia is not accessible if you've made further modifications. Remove the custom ad blocker rule(s) and the page will load as expected.