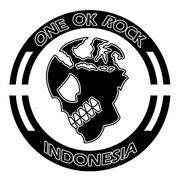 ONE OK ROCK INDONESIA
is official and the largest fan page and community in Indonesia. They have more than ten thousand members in their facebook group. They have an facebook page, facebook group, and twitter account. This community head up smallest community which divided into major cities in Indonesia such as Jakarta, Bandung, Surabaya, Malang, Semarang, Solo, Surakarta, Yogyakarta, and Medan. They already have many projects like concerts project, birthday gift to ONE OK ROCK members and Tribute to ONE OK ROCK.
ONE OK ROCK fans, Indonesia
Edit
ONE OK ROCK fans, Indonesia is the official facebook page of ONE OK ROCK Indonesia. The most of their post written in Indonesian.
@ONEOKROCK_INDO
Edit
Their official twitter account is @ONEOKROCK_INDO. They tweeted in Indonesian and updated daily.
External Link
Edit
Ad blocker interference detected!
Wikia is a free-to-use site that makes money from advertising. We have a modified experience for viewers using ad blockers

Wikia is not accessible if you've made further modifications. Remove the custom ad blocker rule(s) and the page will load as expected.