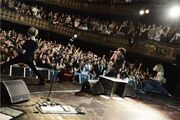 This gig is part of
WHO ARE YOU?? WHO ARE WE?? TOUR
in Europe and Asia and the first gig ONE OK ROCK held in Europe. This gig is extra dates, after the tickets in Le Bataclan already sold out in 2 minutes. The audiences is estimated over one thousands. The fans waited since early morning, dispite of the cold weather. Around 12.00 PM, ONE OK ROCK and staff arrived to the stage.
Be the light Project
Edit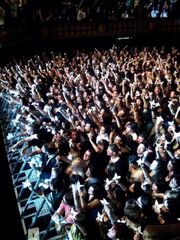 The fans from France got an intuition and make a Be the light project. They make a origami form a swan, each audiences got one and raised that origami in the air when Be the light played. The members very shocked, they could barely hold their tears but Taka cried a little. They very proud of their fans intuition.
Ending Story
Deeper Deeper
Nothing Helps
C.h.a.o.s.m.y.t.h.
Let's take it someday
Jibun ROCK
Clock Strikes
Be the light
(Instrumental)
Liar
Answer is Near
NO SCARED
Re:make
Kanzen Kankaku Dreamer
The Beginning
Encore
Wherever You Are
Toru guitars got a problem and the concert delayed over hours.
There is a fans were waiting 8 AM from the days before
When Taka and friends entered the stage but something goes wrong, they must back to the stage. They said sorry within the help of French translator.
References
Edit
Ad blocker interference detected!
Wikia is a free-to-use site that makes money from advertising. We have a modified experience for viewers using ad blockers

Wikia is not accessible if you've made further modifications. Remove the custom ad blocker rule(s) and the page will load as expected.