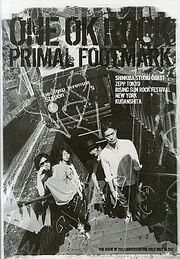 PRIMAL FOOTMARK
is photobook of ONE OK ROCK which is published once a year. In addition, you can get a MEMBER CARD attached inside the PRIMAL FOOTMARK photobook. With that cards, you can register became members of the site to ONE OK ROCK's PRIMAL FOOTMARK WEB, which can be accessed via PC, mobile phones, and smartphones.
You can get some benefit if you had registered:
fastest pre-order ticket on tour
Limited content such as PHOTO GALLERY/SPECIAL MOVIE
Limited PRIMAL FOOTMARK goods
PRIMAL FOOTMARK is availabe in Amuse official online shop at ASMART.
Pages in category "PRIMAL FOOTMARK"
Ad blocker interference detected!
Wikia is a free-to-use site that makes money from advertising. We have a modified experience for viewers using ad blockers

Wikia is not accessible if you've made further modifications. Remove the custom ad blocker rule(s) and the page will load as expected.