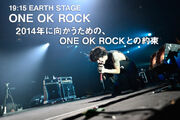 COUNTDOWN JAPAN is a New Year celebrations festival held in Tokyo, Japan. Various band played in this festival, in various stage. This festival held in four days, and ONE OK ROCK played in last day, 31 December 2014. They hit the stage at 8.30 PM, amused thousands audiences. 
Ending Story??
Deeper Deeper
Nothing Helps
Clock Strikes
NO SCARED
Kanzen Kankaku Dreamer
The Beginning
WOWOW channel broadcasted two songs on February 2014 as a digest, included Deeper Deeper and Nothing Helps.
Ad blocker interference detected!
Wikia is a free-to-use site that makes money from advertising. We have a modified experience for viewers using ad blockers

Wikia is not accessible if you've made further modifications. Remove the custom ad blocker rule(s) and the page will load as expected.