Credit goes to oneokrockblog.tumblr.com and you can visit the original post here
We're back!
We've safely returned to Tokyo!
But Hiroshima… was too hot!
If I stayed there for 3 more seconds, I'd be oxygen deprived… (lol)
It was extremely fun!
Thank you!
And Hiroshima… styled okonomiyaki.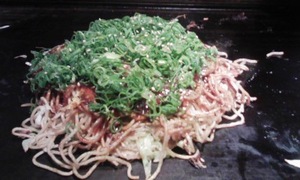 Let's eat! (cries)

!!!!!
The blood of a mayonnaise lover was boiling…!
Tomorrow it looks like I'm going to have a "date" with Ryota (lol)
Good night!
Tomoya
External Link
Edit
Ad blocker interference detected!
Wikia is a free-to-use site that makes money from advertising. We have a modified experience for viewers using ad blockers

Wikia is not accessible if you've made further modifications. Remove the custom ad blocker rule(s) and the page will load as expected.